ECM Tune
(my experience with thanks to Ed of "The Dyno Difference" in Dallas)
Jump to March 10th Tuning and Testing
Preface:
I wanted good useable power for my touring motorcycle, a 2002 ElectraGlide Ultra Classic. So I upgraded it to 95 cubic inches, installed Bishop's Performance Stage One heads, Andrews 21N cams with hydraulic cam chain tensioners, and a Doherty Air Cleaner. I also installed a Power Commander and a map for a build similar to mine.

This combination should put the peak of the torque curve in the rpm range in which I cruise, considering the aftermarket Baker DD-6 transmission upgrade. The stock exhaust "Y-Pipe" broke so I replaced the stock exhaust with a Vance and Hines True Dual exhaust system. I was worried about "torque dip" but didn't want to deal with another Y-pipe.

I also wanted a quieter motorcycle; easier on my ears for long-distance days of touring. I like to hear the wind and the radio. So I purchased and installed a set of SPO Touring performance mufflers.

The motorcycle performed well, had plenty of power, and was a joy to ride. However, the SPO mufflers are not all that quiet, with their straight-through design an open-ended baffles. I also had trouble getting them to stay straight on the exhaust headers; they wanted to rotate and droop. They also tended to pop a lot on deceleration. I was determined to like them, though. Even bought a used spare set.
Touring with Friends:
Most of my trips were with friends; two of which had Harley Sportsters. We stopped for gas every 100 miles maximum so the Sportsters could refill. Of course I filled my tank at each stop, too. As they say, "One should never pass up an opportunity to get fuel." It seemed that my motorcycle might not be getting the same fuel mileage as the other motorcycles, but I never really checked.
Last year, both of the Sportster riders upgraded to big bikes. Annie got a new Road Glide; Dawn a new Softtail Custom. No need to stop at 100 miles any more. 130 to 140 miles or greater was more like it. . . . . except that my motorcycle seemed to need more fuel than the others. If we tried to push the mileage past 140 miles, I was always the first rider pointing to my gas tank.
Soon, I began to get the hint. Something might not be right with my motorcycle. If I didn't fill at 130 miles, I'd run a risk of running out of gas before reaching the next town or station. On a recent trip to Colorado and Utah, I pulled into gas stations on fumes while my riding partners still had a gallon left. It was getting embarrassing . . . I was the one with so much engine and transmission work for a more efficient ride, yet my motor was always thirsty.
Initial Custom Tuning, July 26, 2008:
At this time, my engine was still at 88 cubic inches of displacement, but with true dual exhaust and SPO Touring mufflers.
Unhappy with the mileage and popping deceleration, I took the bike to Ed, the owner of The Dyno Difference for a custom Power Commander tune. First, Ed checked throttle position, throttle body condition, etc. He cleaned my washable air cleaner. He inserted O2 sensors probes way up through the mufflers and into the headers. Then, I watched and learned as Ed went through the steps of measuring the air/fuel ratio at different throttle settings as well as wide-open throttle runs to display peak torque and power. He also did some W.O.T. runs, listening intently for any hint of pinging. Ed then downloaded my Power Commander tables into his system and made modifications where needed. After the mods, he'd upload the tables back into my motorcycle's Power Commander. Then, more runs on the dyno to measure the results. At each step, he would save the current and new settings, labeling each for future reference. He went through the process several times.
Finally, over 4 hours later, he said it was finished.
| | |
| --- | --- |
| Ed is a perfectionist when it comes to tuning a client's motorcycle. I watched as the hours rolled by. No amount of time is too much when it comes to tuning. He commented that with a Power Commander, only AFR and a few other general adjustments could be made. Other parameters are not available for tuning with this system. | |
Engine Upgrades:
Before visiting The Dyno Difference again, I installed the Bishop's Performance Stage 1 heads, and "big bore" to 95 cubic inches. I also installed the Screamin' Eagle Street Touring mufflers.
The Screamin' Eagle Street Touring mufflers replaced the SPO mufflers. These S.E. mufflers are advertised as "Performance" mufflers (without the noise). I was told that some people didn't like the S.E. mufflers because they were "too quiet".

PERFECT! That's exactly what I wanted; Quiet Performance!

The local dealership had a set on their bargain table. I bought 'em. I tried different tips and finally decided to make my own.

I loved these mufflers (or so I thought).
Second Custom Tuning, December, 2008:
I purchased the license/key to use the Direct Link tuning tool. Ed prefers the Direct Link tuning tool. Direct Link is like an aftermarket S.E.R.T.- package. This product allows adjustment of all programmable parameters in the ECM including idle, ignition tables, starting AFR, etc. as well as the fuel tables.
TUNE 1 : TUNE 2 COMPARISON

The blue line is initial tune on July 26th.

The red line is the December 2008 tune using Direct Link, which included displacement increase to 95 cubic inches and Bishop's heads.
Third Tune Session, April 14, 2009:
Maybe between tunes #2 and #3 was when I really began to notice the poor fuel consumption. I'm not exactly sure since so many changes had taken place over the past year. This is also when the girls bought their new motorcycles and we quit stopping for gas at 100 miles or less. In any case, Ed was concerned about my poor mileage and asked me to bring the bike to his facility to check and adjust. He leaned out certain areas, etc. The changes were very minor. Even after all of this, my fuel mileage tests and trips over the next 6 months didn't show any improvements. It was frustrating. I tried to forget about the poor mileage and simply enjoy my motorcycle. Thoughts of a new 2010 Ultra Limited entered the conversations between Judy and me at home.
Fourth Tune, December 14, 2009:
Having little measurable results from the previous session, Ed asked me to bring the bike back again. He could have said, "Ken it's as good as it can be." But instead, he wanted to make certain for his own piece of mind as well as for customer satisfaction. Again, he worked for hours, reading, making adjustments, saving files, uploading, more runs, more adjustments, more saving files, etc. etc. etc. 3+ hours later: Finished.
December 14, 2009 Tune

The result was a reasonable dynograph and a very rideable well-mannered motorcycle; quiet, with plenty of power for my style of riding.

But notice that the torque falls off prior to my 6th gear cruising rpm of 2700. As one HTT member noted, maybe this was an indication of a problem.

I began to post my dilemma on the HTT forum. There, some very knowledgeable professionals guided me to question the Screamin' Eagle mufflers that I liked so well.
After all of this work, the fuel efficiency/range improved, but not much. After a 150 mile trip riding side-by-side with a friend and I needed an extra gallon more gas than he did when we stopped to fill upon our return. My mileage for the trip was 34.5 mpg, though . . . the best I'd recorded in years. Maybe this WAS the best it was going to be.
Butchered the Baffles:
I started a thread on the HTT forum about engine builds versus gas mileage. It turned out to be a well-read and informative thread. The advice from the HTT forum members prompted me to check for oil sumping in the engine's crankcase and poor compression. I did both. The engine is sound. Thankfully, neither conditions were present. I do all of my own work; problems in this area would have been do to my workmanship.
The only other unknowns were the true dual headers and the Screamin' Eagle mufflers. It was time to take the next step. Ed said "Bring it back again. We'll try stock mufflers and/or no mufflers. I'll be available at 4PM.
BAFFLE WORK

While waiting to go to Ed's business, I removed the baffles from the mufflers. They appeared to be restrictive to the exhaust gasses; requiring the exhaust to make two difficult 180-degree turns from inlet to outlet. The path between the two turns looked very restrictive, being only about 3/8" of an inch thick (in a ring around the welded baffle bodies).

In the picture to the right, one can see how the exhaust travels through the inlet squashed pipe, around the welded pipes, back through the output squashed pipe, and finally out of the muffler. Below is the muffler body showing the insulation packing.
HALF-INCH HOLES IN BAFFLES

My initial modification included three half-inch holes; one in line with the flow and two on the opposite side to short-circuit the original design exhaust path. Re-installed the baffles and went back to The Dyno Difference for another tune. Although idling in my workshop, the exhaust was louder, as I rode to his facility, the mufflers produced about the same noise level as before drilling the holes. I was doubting any measureable difference on the dyno.
Fourth Session January 16, 2010 (It has become a Science Project):
Ed was as intrigued and frustrated as me, regarding the performance after his hard work on my motorcycle's tuning. "This is turning into a science project!" Indeed, it was. Ed had "inherited" my problem and wanted success as much as I did.
BAFFLES WITH SMALL HOLES

We rolled it up onto the dyno, did all the normal pre-run hook-ups, O2 sensor installations, etc. followed by some warming up through the gears. It takes about a half hour from rolling in the door before it's ready for a run.

Finally a WOT dyno run. The results were disappointing. The torque and HP curves were almost identical to the non-butchered baffles; maybe a very small gain in torque in certain areas of the graph.

The three holes in each baffle made no significant difference at all.
Well, we decided to try something extreme: Totally remove the baffles from the mufflers altogether and see how the torque and HP curves looked.
NO BAFFLES

The results were astounding! This is where the word "performance", as it pertains to these Screamin' Eagle mufflers is proven a mistake.

What we got was 10 extra ft lbs of torque and 7 additional horsepower. Folks, that's a 10% increase! Or to put it another way, These Screamin' Eagle mufflers rob a tuned motor of 10% of it's power.

This graphic is with baffles pulled but no tuning to match. Note the huge dip in the torque . This is probably because there is no back-pressure and the pipe lengths are random, not tuned for scavenging. Also note that at 3,500 rpm, there is an increase of 10 ft lbs of torque from the previous chart as well as 5 additional horsepower at 5200 rpm.

This is really getting interesting.
Having these results in hand, we decided to go for broke . . . . make the previously-drilled baffles a bunch more free-flowing.
| | |
| --- | --- |
| We enlarged one of the holes and drilled a new large hole so that one would be able to see straight through the baffle. Using a tapered reamer (with both of us holding each baffle in turn), the holes were ground away to maximum with the tools at hand. The two adjacent pictures show the two large holes. Looking through the inlet, one will be able to see through both simultaneously. | |
Final Tune (the end of the science project):
Ed went far beyond the call of duty to give me the best job he could. His dedication to results and satisfaction far exceed profit motive. , and then he began to adjust cells in the ECM to get the best performance. He worked on this tune as hard and diligently as he did on the first. Like I've said, Ed isn't happy unless it's as good as can be.
BAFFLES WITH BIG HOLES

We installed the two holy mufflers (big holes). Ed did another warm up through the gears and then another WOT run. The adjacent chart depicts the change in the curves. Mind you, this is without tuning. We're still using the tune left over from December 14th with the un-altered Screamin' Eagle mufflers.

Look how the torque curve has changed. This proves that back pressure is absolutely required to scavenge exhaust from the heads.

Also notice peak HP is down a few, but peak torque is up by maybe 7 ft lbs. The huge torque dip has disappeared.

We could go with this, except that tuning should make even more improvements.
BAFFLES W/BIG HOLES AND TUNED

Then, Ed went to work, through all of the running, recording, analysis, modifications, saving, testing, etc. to come up with the final tune. This is what I'm running now.

Notice that the torque has increased from un-tuned by 2 to 3 ft lbs to a clean 100 ft pounds of torque. The torque curve has smoothed out and broadened, my entire cruising regime is above 95 ft lbs or torque.

Horsepower has also increased, approximately 3 points to 80 HP. It is generally the same curve as in the No Baffles chart.
Epilog:
I composed and published this web page for my own motives; and as a study in how exhaust can effect horsepower, torque, and their respective curves in a dynograph chart. We found it very interesting, how different baffle design affects performance, even within the same mufflers. It is definitely an education on baffle design; which should be left to the professionals unless one has a dyno facility and plenty of time on hand. The total time involved at Ed's facility was over 15 hours, none of which was wasted.
Here is a composite of three WOT runs on the Dyno, comparing the three muffler modifications.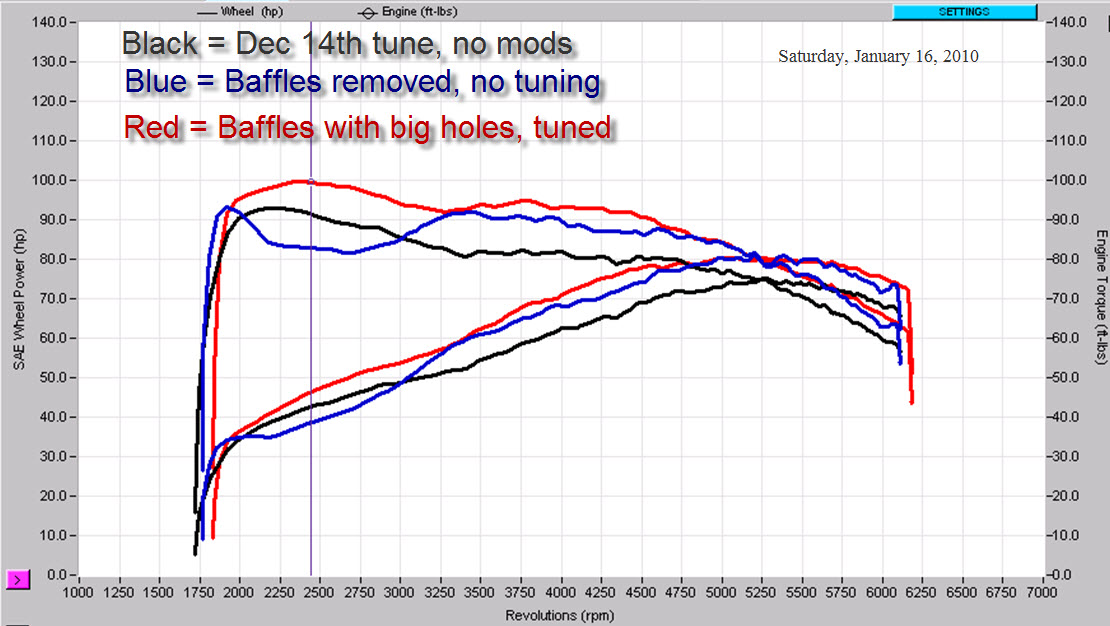 The next day in Dallas was sunny, 60-degrees, with almost totally calm winds. It was as good as it gets for testing fuel economy.
I rode out to I-30 in Mesquite, filled up with gas taking precise note of the level of the fill. The gas was billed as 93-Octane, from one of the discount gas stations. Then, rode out to Mr. Vernon, Texas and back. Kept the speeds at the posted speed limits; 60 mph at first, 65 for the second 5 miles, and 70 - 72 mph for the lion's share of the trip. At least 150 miles were at 70+ mph. I accidentally got up to 75 at one time.
I avoided any drafting of overtaken vehicles or from vehicles that passed me. My speedometer has been calibrated using GPS as the standard so the miles should be extremely accurate. I have the Zumo on the handlebars, as well. There was one stop at the far point of the ride requiring a run through the gears to enter the highway and get up to 70 mph for the trip back.

Upon returning, I filled up at from the same gas station, motorcycle pointed the same way, and from the same pump to as close as the same fill as I could discern. (All the same so the motorcycle would be leaning the same amount as the initial fill to reduce errors in the 2nd fill amount and thus, the fuel consumed).
42.13 MPG!
This is almost 10 miles per gallon more than before! I'm thinking that summertime fuel economy might be even greater, when density altitudes are 5,000 ft and summer-blend gasoline is dispensed.
My sincere thanks to Ed at The Dyno Difference. He went way beyond the call-of-duty to help me. The work he did wasn't cut and dry like so many clients' tunes. Also thanks to members of the Harley Tech Talk forum for their input, suggestions, and interest that kept me motivated to keep investigating even when I was about to give up. (A new Ultra Limited was looking better and better; but now I'm totally happy with my '02)
I hope that this documentary helps others that either have similar experiences or those that simply want to learn more as I did.
March Follow-Up
Instead of being happy with the Screamin' Eagle baffles (the ones we drilled large holes to relieve the backpressure), I bought a pair of Cycle Shack baffles that are made specifically for these mufflers. Apparently, Cycle Shack recognized the highly-restrictive characteristics of the Screamin' Eagle Street Touring mufflers and designed a baffle replacement.
After installing the new Cycle Shack baffles, another tuning session was in order. Quite honestly, I didn't expect that much tuning would be required; we'd drilled such large holes in the original baffles (cores). How could Cycle Shack's cores be any less restrictive, I thought. Boy, I was in for a surprise!
At The Dyno Difference, we rolled the Ultra back up onto the dyno, strapped it down, installed the O2 sensors, adjusted the dyno to fit the bike, attached the computer cables, and did the half-dozen other things required before the actual tuning could start. He also marked the throttle at the different percentages to analyze the AFR at the different throttle settings. It's a 30 to 45 minute process just to get ready. Then, Ed warmed up the bike and ran the bike through the gears several times and held different throttle settings in a process that I watched but didn't completely understand. When finished, he displayed the actual AFR measurements.
What a shock! Where he previously had my cruising range AFR set at 14.4:1 pretty much across the board, the AFR now read as rich as 12.9:1 and as lean as 15.5:1! Some places were rich and some were lean; and not by just a little bit! This, to me, proved the importance of a professional tune any time the mufflers or their cores are changed with different design.
Ed's comment: "The interesting point is that while only the baffle was changed there was quite a bit of AFR difference between the tune file for the "big holes" baffle with the Cycle Shack Cores. This just goes to show that any hardware that changes air flow through the motor changes the AFR values enough that the VE tables need to be recalibrated to the Target AFR values to have a motorcycle that is running in optimal conditions all the time. "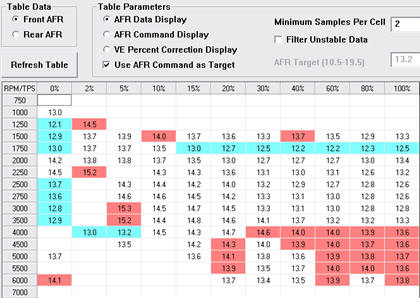 This is the Front cylinder AFR before this most recent tune. The only change made was the replacement of our modified baffles with Cycle Shack baffles. The cells marked blue are those where the resulting AFR had enrichened; the red are those where the AFR was leaner. (all compared to what the ECU was commanding). The Twin Scan program colors the cells, in this case when the AFR varies from the command by .2 or greater.
The WOT 4,000 rpm and above is leaner. For some reason, the 5% throttle 3,000 and 3,500 rpm range is significantly leaner, almost a full point than the previous tune, while the 4,000 rpm range AFR is richer.
And if that's not enough justification for tuning, look at the AFR for the Rear cylinder!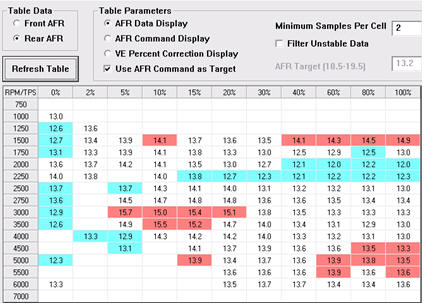 15.7:1 in the 5% throttle setting at 3,000 rpm. I don't know how often I ride at 5% throttle setting, but look at the 5% to 20% setting at 3,000 and 3,500 rpm range.
And look how rich in the 2,000 through 2250 rpm range with the higher throttle openings.
When Ed saw this, he immediately went to work, resetting the VE tables to achieve his desired AFR through the throttle settings and rpm ranges.
It required a couple of hours of work (start to finish) before the bike was unhooked and rolled off the dyno. The final dynograph showed that the motor had lost 3 ft pounds of peak torque; but had gained 3HP at the top end.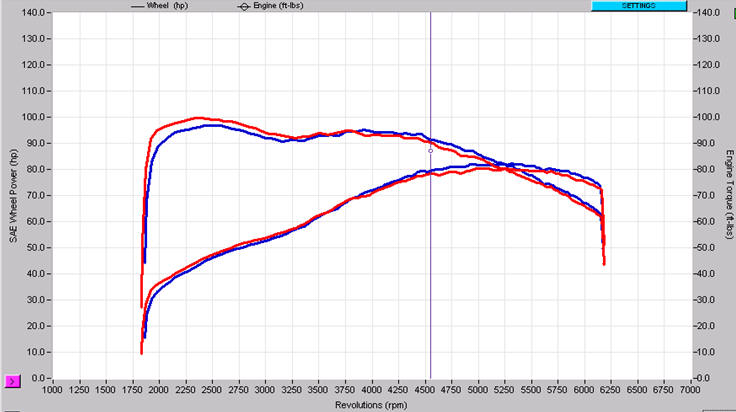 The torque curve appears to have been shifted slightly up the RPM range from 3,750. From that point and greater, the torque was higher with the Cycle Shack muffler cores. At 3,500 RPM and lower, the torque was 1 to 3 % lower. Yes, this bothers me a little. I rarely ride in the higher RPM ranges. I would have preferred to keep the higher torque numbers. Oh well.
The dynamometer has been recalibrated since the previous test, 1-1/2 months prior.

The ambient temperature was cooler for the previous test and thus the SAE correction factors are different.

The 1,750 - 2,300 range has the greatest torque loss, but I NEVER ride in this regime (and certainly never at WOT).

The peak rpm torque loss is at 2,400 rpm, 3 ft lbs; and shifted UP by about 100 RPM from before.
Fuel Mileage Test
So the day after the new tune (for the Cycle Shack baffles) I took the bike out for a 171 mile fuel mileage test. The conditions weren't nearly as perfect as the previous test 6 weeks ago. This time, the wind was blowing at 20 to 25 mph. It was generally a crosswind on my route on Interstate 30 out towards Mt. Vernon, Texas and back. As before, I filled up immediately prior to entering the interstate and at the same pump upon returning. (Actually same station and same pump as the previous mileage test). I maintained the same speeds as the previous test, at least as closely as possible.
The fuel mileage was slightly less than before. In January, I calculated 42.15 mpg. This test of 170.4 miles that consumed 4.12 gallons of gas resulted in 41.36 mpg; over 1/2 mpg poorer gas mileage. Yeah, it's disappointing. I was hoping for a slight increase.
But wait! There are factors that might explain the difference.
For one thing, it was quite a windy day on the recent test compared to absolute calm for the previous.
Another factor is the fuel tank fill level. No matter how precise I tried to be, the fill level can easily be off by one tenth of a gallon. Do the math:
170.4 miles divided by 4.12 gallons of gas = 41.36 mpg
170.4 miles divided by 4.02 gallons of gas = 42.39 mpg . . . . . .over an mpg greater mileage.
A one-tank mileage just run doesn't provide enough resolution and thus results in poor precision. A tenth of a gallon difference between two fill-ups is almost undetectable when looking in the tank. I could have over-filled by .05 gallons today and under-filled by .05 gallons in January; creating a .1 gallon and 1-mpg error. (or vise-versa and had a 2mpg difference).
How About the Noise?
Well, I sure was happy with the low noise level of the S.E. Street Touring Mufflers before drilling the baffles. But I'm getting used to my Harley sound like . . . .a Harley. With the Cycle Shack baffles, the sound is slightly louder while riding at 70 mph, but not any louder than the wind noise (perceived from inside my full face helmet). Yeah, louder than stock, but not as loud as many I've heard. I can be happy with the noise level, knowing that it's required to achieve efficiency.
What's in the future?
The ambient temperature for the most recent test was 70 - 74 degrees. My engine oil temperature never rose above about 170 to 175 degrees while cruising. That's pretty cool, I think. There may be room to lean the mixture to 14.6:1 or so, without the engine running too warm. We're waiting for hot weather to make the decision (to try a slightly leaner mixture). I'm thinking that 14.6 to 14.7 in certain throttle opening regimes would improve fuel economy without causing greater engine temperature.